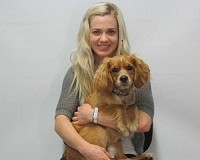 Veterinary Technician, RVT
Education: Sheridan College
Pets: 6yr old Golden Retriever and "Tucker" a 1yr old cockapoo
Sarah graduated from the Veterinary Technician program at Sheridan College in 2013.
Sarah has always had a love for animals and knew that her future career would in some aspect involve them. Sarah's favorite aspect of veterinary medicine include surgeries, dentistry and caring for sick patients. As a new graduate, Sarah is eager and excited to expand her knowledge in veterinary medicine to provide the best possible care for our patients.
During Sarah's spare time, she enjoys working out in the gym, cooking, baking, painting and hiking with her two dogs "Brody" a 6yr old Golden Retriever and "Tucker" a 1yr old cockapoo.
cooking, baking, painting and hiking