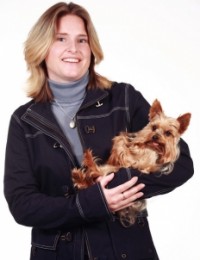 If you want the best seat in Lindsay's house, you would have to move one of her 5 cats or 2 dogs!
Lindsay has worked in the veterinary industry for the past 14 years and enjoys attending seminars and courses
relating to animal health care and veterinary management.
Lindsay feels very lucky to have been able to turn her passion for animals into a career.
In her spare time Lindsay enjoys reading British and Celtic history, myths & legends and specifically, Arthurian legends.
She loves going camping and fishing with her husband, Billy, going to the theater and spending time with her family.
Lindsay always knew that she would either act, sing and dance her way into broadway or work with animals, but in the end,it was the animals who won by leaving pawprints in her heart.