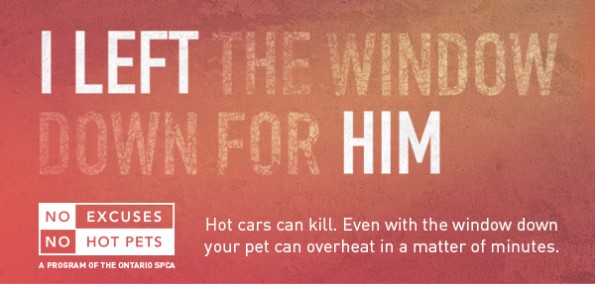 The No Hot Pets Campaign is BACK!

"I left the window down for him" "I wasn't going to be gone long" We've heard it all! The issue of owners leaving their pets in their vehicles during the hot summer months, putting animals' safety at risk and even causing death, is an ongoing problem across Ontario. There is NO excuse for leaving a pet unattended in a vehicle.
Thank you for taking the online No Hot Pets pledge in the past. You can show your support for this year's "No Excuses. No Hot Pets." campaign by helping to spread the word in your community.
If you witness an animal unattended in a hot car, please call 310-SPCA (7722) or your local police immediately.
For more information on the No Ho Pets campaign, visit nohotpets.ca.
Together we can save lives this summer! Thank you for your help.